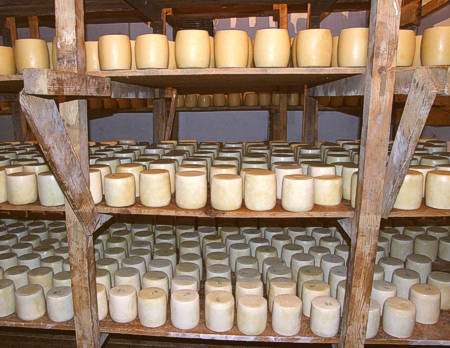 Dairy Products
Homerus in his epic poem Odyssey has an explicit description of cheese making with sheep and goat milk.
Lesvos and Limnos having a long experience on the field of cheese making in combination with their perfect terrain features and climatic conditions produce excellent quality cheese that is renowned around the world.
Traditional dairy products with a certificate of origin all unique in taste and aroma:
Ladotiri from Mytelene(Sheep and Goat Cheese in Olive Oil.)
Feta Cheese, Kaseri (a kind of soft cheese) and Gruyere.
Traditional cheese dairies guarantee the quality of these products since they use the best sheep and goat milk. The natural flora and the local kinds of sheep and goats are the main factors of its excellent taste. Another factor however is the producers who have been using for many years the traditional ways of cheese making (Feta, Ladotiri, Grayere, Kaseri etc.) offering young generations delicious dairy products.
Ladotiri has been produced on Lesvos for a very long time. It is made with sheep milk and owes its name on the way it is stored and conserved throughout the year in good quality olive oil. It matures for about three months in basements or cool chambers and tastes piquant