Wines
Ouzo
Olive Oil
Dairy Products
Rest
Photos
WINEMAKING TRADITION…
The vineyard is one of the few plants, which have been cultivated in Greece since prehistoric times. Even in Homeric Epics it is referred how well acquainted were people around the world with the processes of vineyard cultivation and wine making. Strabo, the great ancient geographer, says that Lesvos, Chios and Cos were renowned for the quality and quantity of their wine production. In ancient times the wine of Lesvos was compared to the Nectar of Olympian Gods.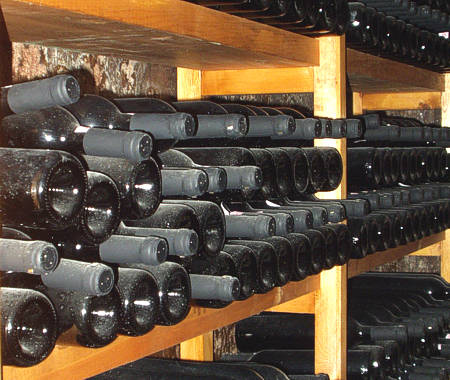 Oinoforos
The wines from the winery "Oinoforos Megaloxwriou" are produced from grapes exclusively from Lesvos vineyards, from the company's 30 acre vineyards and from specific vineyards of Anemotia, Eresos and Kalloni.
"METHYMNEOS" WINE
Methymneos was an epithet of Dionysus, Greek god of wine (Plutarch, Moralia,C). "Methymneos", the first bottled wine in the history of Lesvos, is made from the revived Lesvos Grape Variety, which produced the most expensive wine of antiquity and the only wine in the harems of the sultans. This variety is cultivated today according to the principles of organic farming on the lavas that once formed the Petrified Forest of the island of Lesvos. True to the Ancient Greek ideal of the harmonious coexistence of opposites, Methymneos red or white is a full-bodied wine, but has a delicate bouquet and a strong minerality. Methymneos winery is situated at the entrance of the village Chidira on the island of Lesvos. (www.methymneos.gr)
LIMNOS (LEMNOS)
Limnos is an island which belongs to the Prefecture of Lesvos. Today it is worldwide known for the production and superb quality of its wines. Alexandrian Muscat is the variety that predominates in the vine-cultivation of Limnos. Wine producers continue the tradition and cultivate this unique in taste grape variety on Limnos volcanic soil thus producing exquisite wines for centuries.
The most famous wines are produced by: Limnos E.A.S (www.limnoswines.gr), Chatzigeorgiou, Chonas, Savoglou etc.
OUZO WITH TRADITION…
Ouzo is a Greek drink with great tradition. It is considered our national drink.
The history of ouzo goes back to antiquity. Modern production of ouzo became more systematized in the 19th century after the Liberation of Greece. Lesvos having the greatest development in production claims to be the place of origin of ouzo.
The history of this drink is part of the history of our island and an achievement of the art and tradition of local ouzo makers. Ouzo is distinguished for its pleasant aggressiveness balanced by an overflow of fragrances, which awaken our senses and leave us with sweet and joyful recollections of every distinct moment in our lives.
Ouzo must contain up to 46% of alcohol in order to retain its balance in taste and aroma through time or while traveling around the world and various climatologic circumstances.The production of this Greek drink, which has been identified with the Greek soul, hospitality, the sea and the blue sky, is an art, laborious and challenging at the same time.
You can drink ouzo straight or on the rocks while when water is added it gets a milky colour, which is proof of its high quality. The best way to drink ouzo is as an accompaniment to your meze(appetizers) and the tastiest combination is ouzo with seafood. Lesvos being the island of ouzo owns the most ouzo distilleries in Greece. One of the basic reasons is that only on Lesvos one can find a particular variety of aniseed-the major aromatic factor of the drink.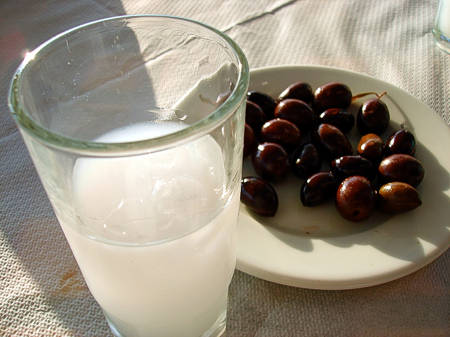 Today we can find many different etiquettes of ouzo on the island coming from the following distilleries:
Kouroumichalis (in Petra),
EPOM,
Samaras,
Arvanitis,
Pitsiladis,
Gianatsis,
Varvagiannis,
Linos,
Kronos
Olive oil has been used for a great number of reasons since prehistoric times. Lesvos is renowned for the finest olive oil and the production of goods based on olive. The whole island is covered with olive groves. The exquisite and fine in taste olive oil of Lesvos has been the main source of income for its inhabitants for years. This was the main reason for the expansion of olive presses, storage and packaging warehouses, soap making factories and agencies, which brought immense wealth and prosperity on the island. Olive oil is low in cholesterol. It has fewer harmful and more beneficial properties in comparison to other vegetable oils. It is not only tasty but one of the most important ingredients in Mediterranean Diet.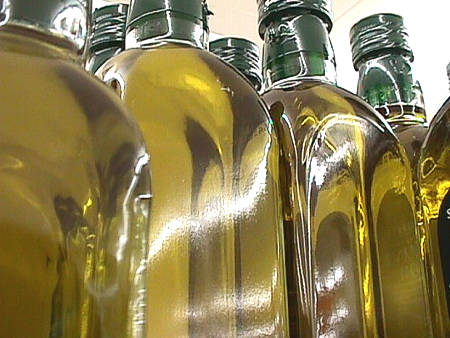 Modousa
Everyone wants an olive tree to be producing, so they can say "this tree is modousa" (productive).«Modousa» was renamed from Social Cooperative Company by the producers of Gera, Lesvou with the hope to be «productive».
OLIVE OIL CATEGORIES:
Virgin Olive-Oil is extracted from olives mechanically or with other processes, which however do not alter its basic properties. As a result, this is a product that retains the taste as well as the chemical and organic features of the olive. Virgin olive oil is divided into three different recognized levels of quality.
1. Extra virgin olive oil has the best taste and the level of acidity doesn't get over 1%.
2. Moderate olive oil has a good taste and the levels of acidity don't go over 3.3%
3. Strong olive oil has inadequate taste and the levels of acidity are over 3.3%.
Refined olive oil: It is oil coming from the processing of virgin olive oil, which is unsatisfactory for immediate consumption because of its inadequate taste or acidity. The result is a completely healthy and acceptable dietary product in spite of lacking the taste of virgin olive oil.
Olive oil: It derives from the fusion of refined olive oil and virgin olive oil. It is a market standardized product and its properties are somewhere between the ones of the two previous categories.
WORLD RENOWNED OLIVE OIL OF LESVOS:
It is difficult to imagine Lesvos without its olive groves shining under the fiery Greek light.
Apart from the sea no other gift of nature has been so closely related to the Greek way of living as the olive and olive oil has, sustaining so many civilizations from antiquity until today. Lesvos is covered with eleven million olive trees spreading in an area of 465 square klm., with an average fruit production of 100,000 tones or 20,000 tones olive oil. The Mitylene olive oil is a true gift of Lesvos nature due to its incomparable taste, elegant aroma and most nutritional properties. This world famous olive oil is an excellent source of energy and health as well as the basic ingredient of Mediterranean diet. Two varieties of olive trees are cultivated on Lesvos. One of them called "Kolovi" covers 65% of the southeastern sides of the island. The second one called "Adramitini" covers 30% of the north and northeastern part of Lesvos. Only 5% of the island is covered by a variety called "Ladolia". Both of the predominating varieties produce excellent olive oil very often used in Spanish or Italian olive oils to improve their taste. As all other oils and fats, olive oil contains 9cal/gr. It is resistant to any kind of oxidation. The fact that it contains a balanced analogy of saturated and unsaturated acids constitutes it as the perfect nutritional element helping people avoid serious illnesses and live long. The last few years more and more olive producers turn to the organic farming of olive trees producing excellent quality organic olive oil while winning many prizes in international olive oil competitions.
Related Companies:
Agricultural Cooperative of Petra, Lesvos
Olive oil Cooperative of Stipsi, Lesvos
ELPA Ltd. Paparisvas Olive press, Mitylene Lesvos
Union of Agricultural Cooperatives of Lesvos
Katsakoulis Ltd., Mitylene Lesvos
Rafteli-Protouli Maria & Co Ltd, Lesvos
Homerus in his epic poem Odyssey has an explicit description of cheese making with sheep and goat milk. Lesvos and Limnos having a long experience on the field of cheese making in combination with their perfect terrain features and climatic conditions produce excellent quality cheese that is renowned around the world.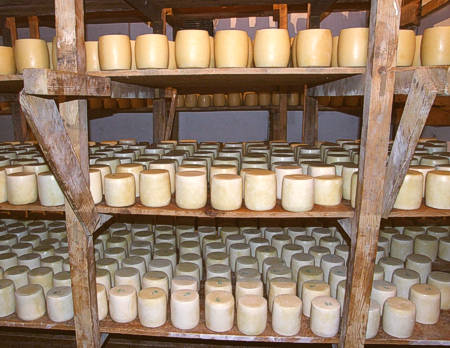 Traditional dairy products with a certificate of origin all unique in taste and aroma:
Ladotiri from Mytelene(Sheep and Goat Cheese in Olive Oil.)
Feta Cheese, Kaseri (a kind of soft cheese) and Gruyere.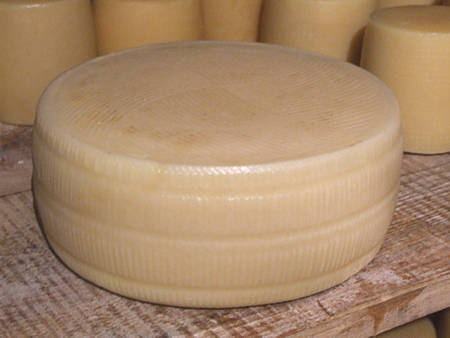 Traditional cheese dairies guarantee the quality of these products since they use the best sheep and goat milk. The natural flora and the local kinds of sheep and goats are the main factors of its excellent taste. Another factor however is the producers who have been using for many years the traditional ways of cheese making (Feta, Ladotiri, Grayere, Kaseri etc.) offering young generations delicious dairy products. Ladotiri has been produced on Lesvos for a very long time. It is made with sheep milk and owes its name on the way it is stored and conserved throughout the year in good quality olive oil. It matures for about three months in basements or cool chambers and tastes piquant.
There is a great variety of local products composing the cuisine of Lesvos. They're traditionally produced until today by the various women's cooperatives existing on the island. Candied fruit in syrup (sour cherry, watermelon, cherry, pumpkin, fig, small tomato, almond, pistachio etc) all perfect accompaniment for your Greek coffee or excellent toppings for your yoghurt dessert. They also make delicious pastries, baklava, handmade pasta, vine leaves in salt for the preparation of dolmades and wonderful fruit liqueurs.