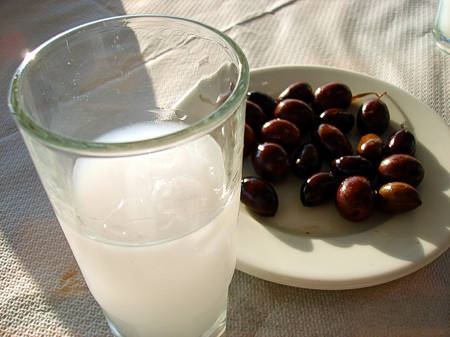 Ouzo
OUZO WITH TRADITION…
Ouzo is a Greek drink with great tradition. It is considered our national drink.
The history of ouzo goes back to antiquity. Modern production of ouzo became more systematized in the 19th century after the Liberation of Greece. Lesvos having the greatest development in production claims to be the place of origin of ouzo.
The history of this drink is part of the history of our island and an achievement of the art and tradition of local ouzo makers. Ouzo is distinguished for its pleasant aggressiveness balanced by an overflow of fragrances, which awaken our senses and leave us with sweet and joyful recollections of every distinct moment in our lives.
Ouzo must contain up to 46% of alcohol in order to retain its balance in taste and aroma through time or while traveling around the world and various climatologic circumstances.
The production of this Greek drink, which has been identified with the Greek soul, hospitality, the sea and the blue sky, is an art, laborious and challenging at the same time.
You can drink ouzo straight or on the rocks while when water is added it gets a milky colour, which is proof of its high quality. The best way to drink ouzo is as an accompaniment to your meze(appetizers) and the tastiest combination is ouzo with seafood.
Lesvos being the island of ouzo owns the most ouzo distilleries in Greece. One of the basic reasons is that only on Lesvos one can find a particular variety of aniseed-the major aromatic factor of the drink